Our Music Playlist at PDB, with ShowroomM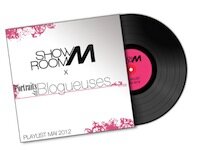 ShowroomM gave us the opportunity to create a playlist on Spotify and to be the Playlist of May. We were glad to do it! You'll find below the list of the songs we choose.
Which ones do you like as well? What do they represent for you?
The XX – Islands
Massive Attacks – Unfinished Sympathy
Moby – Porcelain
Daft Punk – Aerodynamic
Empire Of The Sun – Walking On A Dream
The Chemical Brothers – Block Rockin' Beats (2003 Digital Remaster)
Prodigy – Smack My Bitch Up
Björk – The Dull Flame of Desire (modeselektor's RMX for girls)
Ratatat – Mirando
The Glitch Mob – We Swarm
Birdy Nam Nam – Abesses
Prince – When Doves Cry
Jeff Buckley – Last Goodbye
Beirut – Nantes
M83 – Reunion
La Roux – Quicksand (Standard Version)
Phoenix – Everything Is Everything
Coldplay – Paradise
The Killers – Mr. Brightside
Muse – Undisclosed Desires
Radiohead – Karma Police
The Verves – Bitter Sweet Symphony
Blur – Song 2
The Cure – A Forest (Shortened Edit)
David Bowie – Ashes To Ashes
Roxy Music – More than This
Pixies – Where Is My Mind?
You can access the Spotify Portraits de blogueuses Playlist on ShowroomM's website.