Street style – Baby Modeuse
June 2009. What was supposed to be a shooting test proved to be the first Portrait de blogueuse… This PDB is the one of Baby Modeuse, and 3 years after I have the impression that we were shooting it yesterday … Several years have passed, however, with many events in our lives.
May 2012. Our reunion with Flo! And this is the good thing about social networks: we keep in touch via Twitter, Facebook, we "see" pictures of each others, and when we meet again after 3 years it seems that it does not that long.
We had a meeting with Baby Modeuse to chat, but also to discuss our shooting "OVMTLMDA" (the code name of the shooting). You can read more about this photo project soon. And that's where the magic of fashion blogger operates: fashion bloggers, true ones, they are always ready to do a street style. They've always something more that comes out of the ordinary: a bag, an accessory, a pair of shoes … And in this very case, it's nice shoes which they were concerned. Not Louboutin, but a sublime pair of Nike Dunk Sky High … Liberty! They were really good at Nike, they are sublime. And this is where the magic of the photographer operates: the photographer, the real one, he always has a Nikon D700 not far away, hidden. Ha!
Here is a picture from the series that we did with Flo. To see the other photos, check out her blog.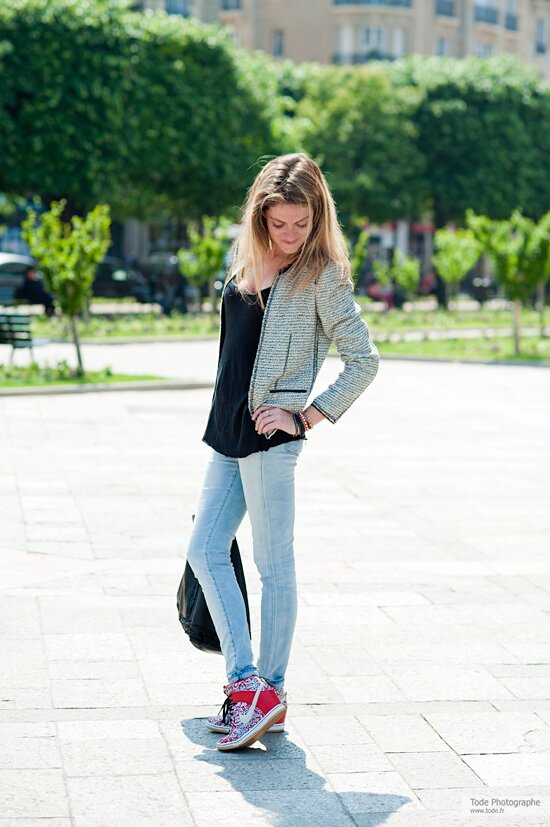 Thank you Flo for your kindness and your availability.